Interview with Edgar Meyer
Multiple Grammy and MacArthur award winning instrumentalist and Composer
When listening to Edgar Meyer and Chris Thile's Bass and Mandolin album – it's amazing how the mandolin and bass weave together so easily even though they are from different sonic spectrums.
The duo's music flows with call and response, delights with the quick melodic fingering conversation of Chris's mandolin and the dancing, gliding bow strums of Edgar's bass. It's more than peanut butter and jelly…it's like a flowing chocolate caramel swirl that delights your mind and fills your senses. And as it is with all good cooking, you can't help but ask for more. They are very much at home playing together and this album invites us in for a listen.
I spoke with Edgar Meyer about his music and recent recording as well as the 2014 Fall tour.
AS: I believe you started to play double bass at an early age (5). Additionally you play piano, guitar, banjo, violin, mandolin and dobro.
EM: Other than bass, mostly I play piano. Most of the people I play with are multi-instrumentalists and usually there's one or two that they're better on…like I'm better on bass and trying to get by on piano too. And that's pretty common, I have some classical music friends that specialize in one instrument, but my non-classical friends almost everybody would fit that same multi-instrument category.
AS: Do you think this bolsters and/or fosters an understanding for your compositions as well as your various collaborations? (Béla Fleck and Zakir Hussain, a quartet with Joshua Bell, Sam Bush and Mike Marshall; a trio with Béla Fleck and Mike Marshall; and a trio with Yo-Yo Ma and Mark O'Connor, Goat Rodeo Sessions and currently Chris Thile.)
EM: Having familiarly of playing different instruments, it's part of it.
AS: With you and Chris performing on and off for more than a decade, how did this musical conversation begin?
EM: First of all we're both from the same community. People that he was getting to know when he was 10-11 years old, were all the same people that I've been with all these years - such as Sam Bush producing Chris's second record and also both of our fathers are bass players. So a lot of overlap. The most significant overlap is we simply both have a completely serious interest in a fairly wide range of music in particular being very involved in Bluegrass and related music, and Classical music although in different ways for each of us. We're able to connect immediately on a lot of levels.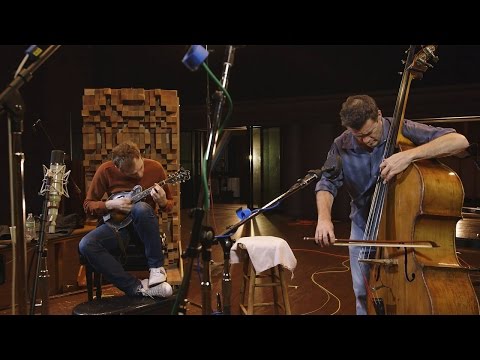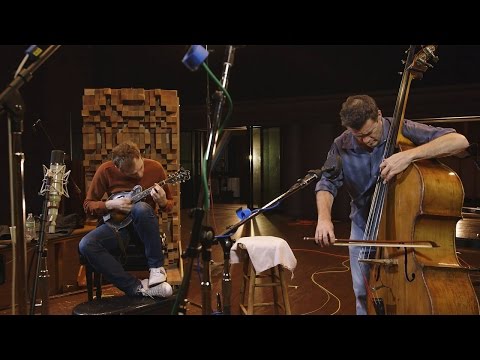 AS: How do you influence each other musically in your approach to the material you both write?
EM: We're both trying to learn from each other. Every time I work with him I have five more ideas of how to do things musically and that dynamic continues and so it's an evolving process. Especially the writing, we want the writing to be more interesting and more connected than it was the last time, we want to learn from our mistakes and we learn from each other. Chris is able to point out things I wish had been another way last time and I try to make them that way this time. Without being remotely difficult, I think we're highly critical of all aspects of our writing process. And we're able to do it without tremendous tension but with a seriousness of purpose.
AS: Adding piano (Edgar) on Look What I Found and guitar (Chris) El Cinco Real. Now is it "Real" a la Espanola or "Reel?"
EM: It's "Real" but he (Chris) wants it to come off the other way Cinco Real is a song that's in 7 not in 5, but the reason we chose that is because it's a tribute to Dave Sinko (sound engineer) who has worked with both of us for 30 years. It was a little beyond the pale for me to use a name in the title but wanted to give him a little bit of props and Chris does view the song as a little bit of a "Reel" so it's a play on it being Dave Sinko and it being a reel.
AS: For different layers/textures?
EM: In short we enjoyed playing several instruments on the Goat Rodeo Project and we thought that it would add, make a more compelling listen, and provide a little bit of relief from the bass and the mandolin. It immediately goes places the bass and mandolin don't go. Very interesting for me that way, just immediately the very language of the writing is fundamentally different as soon as we switch instruments.
AS: Your last duo album/project together was recorded in part at your house/home studio but this new album was recorded at Skywalker sound (with Dave Sinko). Why the change in location?
EM: It's because we thought my house was inadequate, good but we thought the Skywalker was better. We tried a lot of things over the years and I'm increasingly of the opinion that I don't really get the bass tone that I want to get unless I'm in a room that's really the size of a small hall. I can't get it in a smaller room it has limitations that I don't really like. It may be subtle and doesn't mean you can't make great music in a small room but there are some things that happen tonally in the bigger rooms that I prefer and so Skywalker was big enough. And it's very good sounding and very flexible so you can get any sound you want. But there were 4 or 5 other rooms that were on the docket that would've worked. Skywalker is kind of a favorite and I think we'll be back there. You'll see one or both of us back there.
AS: You have a several double basses; for different tonal qualities or perhaps for traveling?
EM: The truth of the matter is it's kind of interesting. My father was a player and my instruments are all from him, I have three. I've never actually chosen an instrument, I never went shopping for one, never picked one and so 98% of the time I play the Gabrielli, (made in 1769 in Florence, Italy) which I've played since I was 23…so 30 years. Most of the music I play is created around the instrument. It's a unique instrument. It's a little small for say playing with guitar. With guitar you start to want a slightly deeper instrument than the Gabrielli, remembering that the first significant band that I was in was Strength in Numbers (it was notable for no guitar) and, most of the music I play is designed around this instrument which is unique, it's very clear, fairly easy to play and has a distinctive sound. It wouldn't be right for every music, but I just don't play every music. The other instruments would be nice for say if I'm up in New York. Over the years I've play in a Chamber Society at the Lincoln Center, I'll use my dad's big bass. It's almost 7/8's and has a B string. It's still very clear, but it gets under a bigger band more successfully and the instrument I grew up on is probably not a bad bass for doing a straight Bluegrass thing. It's a little louder, a little deeper …a 1933 Czech bass. But I play the Gabrielli almost entirely and design my music around it and its unique characteristics.
AS: I've heard you have quite a sense of humor, such as adding dots onto one of your bass's?
EM: That's not a sense of humor that is an asset! Call it landing lights if you will. I don't' have a sense of humor if my intonation gets too out of control. The dots enable me to have a sense of humor.
AS: Ok…here's a tough one…how do you go about naming your instrumentals.
EM: It's entirely wacky. About half of them are sources that are really not repeatable. They are funny but not for the public. And then there are others… for example, It's Dark In Here. We started off trying to write a piece that told a story but no re-occurring character, so any music that you played in one section you couldn't play again later. No chorus, no verse, just have a piece that evolved, but that failed. The piece was not very good. It had a lot of good sections and we were calling the piece as a working title, It's Dark in Here Nothing Returns. So we just took the better parts of that piece and just called it It's Dark in Here and ended up with a piece we liked. We started from scratch the second time. Well that's an idea, they come from anywhere and if the title is a little odd… nope there's no second guessing, each one has a very unique story and sometimes that has something to do with the music and usually not just trying to come up some kind of a handle so people can grab it.
AS: Anything you'd like to add?
EM: Just that it's a joy to get to be with Chris and to play for people.
It's not every day you get to see to two MacArthur genius's play. Chris Thile and Edgar Meyer will perform Saturday September 20 at UCLA's Royce Hall as part of the Center for the Art of Performance music series.
Annette is one half of Living Tree Music & The Seagulls with her husband Nowell. She also holds a "Day" job working for the Bob Hope Estate/Family for the last 18 years. Email: This email address is being protected from spambots. You need JavaScript enabled to view it.